NRCC Winter Meeting
January 14 @ 9:00 am

-

6:00 pm
https://www.eventbrite.com/e/nevada-republican-central-committee-winter-2023-meeting-tickets-477575610507?aff=ebdsoporgprofile
Location
Bristlecone Convention Center 150 West 6th Street Ely, NV 89301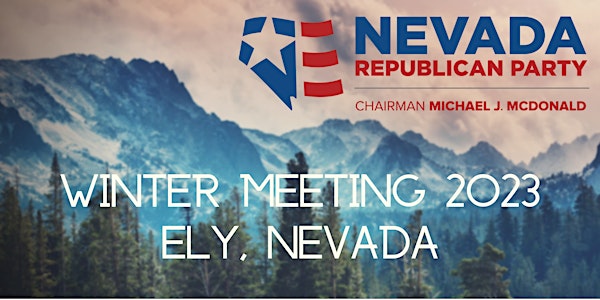 Join us in Ely, Nevada for our 2023 Winter Meeting of the Nevada Republican Central Committee!
NEVADA REPUBLICAN CENTRAL COMMITTEE WINTER MEETING
BRISTLECONE CONVENTION CENTER
150 W. 6th Street, Ely, NV 89301
FRIDAY, JANUARY 13, 2023
3:00 PM – Rural Caucus Meeting
Ely is also hosting the Fire & Ice Festival this weekend – this is a fabulous experience that features ice sculpting competitions, snow sports, and fireworks to check out.
SATURDAY, January 14, 2023
Note: All times are approximate and are not part of the official Agenda
7:00 AM – Registration and Continental Breakfast
9:00 AM – Call to Order – Chairman Michael J. McDonald
Invocation
Pledge of Allegiance
National Anthem – Clark County Chairman Jesse Law
Welcome – Chairman Michael J. McDonald
9:30 AM – Board Reports – 3 Minutes Each
Vice Chair Jim Hindle
Secretary Barb Hawn
Treasurer Michael Bertrand
National Committeewoman Michele Fiore
National Committeeman Jim DeGraffenreid
NvFRW President Caroline Smith
Rural Caucus Chairman Wes Rice
Clark County Chairman Jesse Law
Washoe County Chairman Bruce Parks
10:00 AM – Provisional Credentials Report – Credentials Chairwoman Eileen Rice
10:15 AM – Adopt the Agenda
10:30 AM – Ratification of NRCC Membership Changes
10:45 AM – Approval of Minutes – January 29, 2022 NRCC Meeting
11:30 AM – Final Credentials Report – Credentials Chairwoman Eileen Rice 12:00 PM – Lunch Recess
12:45 PM – County Chairman Reports – 3 Minutes Each
Carson City County Chairwoman Susan Ruch
Churchill County Chairman Gary Smith
Douglas County Chairman Jim McKalip
Elko County Chairman Lee Hoffman
Esmeralda County Chairwoman Theresa Moller
Eureka County Chairwoman Terry Spahan-Bailey
Humboldt County Chairman Stephen Tibbals
Lander County Chairman Ray Willams Jr
Lincoln County Chairman Jack Horner
Lyon County Chairwoman Lorrie Olson
Mineral County Chairman Jim "Gunny" Utterback
Nye County Chairman Bill Carns
Pershing County Chairman John Shank
Storey County Chairman Lee Sterrett
White Pine County Chairman Michael Kneese
1:30 PM – Field and Data Operations Presentation
NRP Executive Director Alida Benson
Legislative Session Overview and Action Plan: National Committeeman Jim DeGraffenreid
2:15 PM – New Business
2:45 PM – Announcements
3:00 PM – Closing Remarks – Chairman Michael J. McDonald
3:30 PM – Adjournment
We'd like to invite all NRCC members to attend the White Pine Lincoln Day Dinner that evening, starting with a no-host bar at 6PM.
Ticket details for the Lincoln Day Dinner to follow.
Disclaimer: All proceeds benefit the Nevada Republican Party. To comply with Federal law, we must use our best efforts to obtain, maintain, and submit the name, mailing address, occupation, and the name of employer of individuals whose contributions exceed $200 per the calendar year. Contributions to the Nevada Republican Party are not tax deductible. Paid for by the Nevada Republican Party, not authorized by any candidate or candidate's committee. www.nevadagop.org